We left the party sleeping, warm and cozy in their bunks at the end of Day 1. A new day dawns, but first I wanted to retrospect a little bit on a.) what's taking so long and b.) how things are progressing.
Recap
a.) Real life has been in the way of the blog, this actual play, and pretty much anything resembling free time or hobbies since the last post. A good 3+ months have passed in the real world and my day job has been a killer, we've sold our old home, bought a new one, packed, moved, and unpacked, and dealt with the usual living out of boxes, figuring out the new town, etc. All that and more. But enough boring stuff… let's play some D&D.
b.) I left off talking about madness and fatigue due to the Blade Sickness mechanic that the module includes — a cumulative 1 in 4 chance that characters experience restless Blade dreams, resulting in no rest and eventually Ceaseless Bladelust (madness). While there's a description of the bladelust, I want to make this a more prominent and interesting part of the story, so I asked on the Lone Wolf G+ group for house rules on madness.
+Gerard Nerval answered the call, pointing me to these 5e Madness rules on Roll20 (part of the official SRD). They were exactly what I was looking for and ought to work for just about any game: three d100 tables for the effects of madness, split into short-term, long-term, and indefinite. I'm going to employ this both for my characters and for the NPCs they encounter.
Each time a character experiences the Blade dreams, I will have them make a Save vs. Spells roll (RC allows for WIS bonus to be applied). On failure, the character will suffer Madness effects from the 5e tables for the given duration. On the first failure, short-term madness; 2nd, long-term; and should the Bladelust consume them, they will also acquire indefinite madness.
For NPCs encountered, I will make a d4 check for madness, increasing for each day henceforth. Day 2: 1 in 4; Day 3: 1 or 2 in 4; Day 4: 1-3 in 4; and on the 5th day, I will presume all NPCs to have some form of madness, and will roll d4 again, with a 1 or 2 being short-term, 3 long-term, and 4 indefinite. Does that sound "crazy" (get it?)? Maybe so… I'll back off if things are getting too bonkers.
In addition, I will employ the LotFP "exhaustion" rules: if the characters don't get several hours rest within a 24 hour period, they will suffer a cumulative -1 to all rolls until they do.
Act 1: Day 2
Scene 1 | Chaos: 5
Unfortunately for Calleagh, she failed her first blade dream roll at the end of Day 1. I roll another d4 for lingering effects: 4 = Yes. Save vs. Spells, target is 15: d20 = 4 + 2 (WIS bonus) = 6, Fail. 1d100 on the short-term madness chart (first offense): 58 = Attack nearest creature for 1d10 = 10 minutes. And the winner is: (1. Vincent, 2. Shira, 3. Hisham) 1d3 = 1, Vincent. Why stop rolling now? 1d6 for surprise: 6 = No.
Vincent, ever the early riser, had been quietly making ready for the day: sharpening his steel, checking and rechecking his pack, mentally preparing himself for what these bleak, frozen lands might hold for he and his friends. The party had passed the night in relative quiet and comfort — save Calleagh, whose restless sleep was consumed by thoughts of the Black Blade. Vincent had been eyeing her fevered tossing in her bedclothes with growing concern before she suddenly awoke, rambling about sharp swords and dark steel — and attacked!

Not one to be caught off guard for a fight, Vincent quickly evaded her incoming strike, rolling from his pallet to his feet, ready for whatever might come next. Calleagh, in her fevered madness, rained blow after blow towards Vincent, seeking desperately for his sword. Eventually he managed to subdue her, bringing himself to sit upon her, pinning her arms to the ground.

The other members of the party now aware of the debacle, Hisham kneels by Calleagh and begins murmering an incantation. One hand pressed to Calleagh's sweaty brow, the other focusing his magical energies, he weaves a spell of sleep upon her. Finally at rest in a dreamless sleep, Vincent and Hisham help her back to her cot to sleep off the effects of the Blade dreams.
I've spared you the combat details, but Vincent's AC and Calleagh's to-hit targets (with the -1 "exhaustion" penalty) made it relatively easy for him to evade a few blows before Hisham awoke and cast his memorized Sleep spell. He'll meditate to regain the spell as Calleagh sleeps, while Vincent and Shira go shopping for supplies, with a +1 to Mythic's Chaos factor.
Scene 2 | Chaos: 6
So, at this point in the module, my mind is wandering through what it knows — there's obviously more stuff to see in town, including the Seeker and the Wildcard. We're on Day 2 out of 5 and time is against the party. Things of that nature.
I'm trying really hard to reel it in, put myself in the player or characters' shoes and think about what they know and what they would do next. So, I'm thinking they would get supplies, or least check what was available (they're fairly well supplied already), maybe ask around town some more about the Blade and the Obsidian cliffs (which sounds like where the darn thing is located), and discuss whether or not they want to return to the Inn and enter into the employ of Zul Highmore (which I'd say is likely since he seemed genuine and pays quite well, considering their impoverished state).
Returning to the text, Day 2 brings about a strong eruption from one of the distant volcanoes, affecting anyone with more than 2 points of Law (no one in the party). Furthermore, it states the PCs will encounter The Wildcard should they venture into the town square, which Vincent and Shira will be doing as they cross town in search of Brynhild's Shop.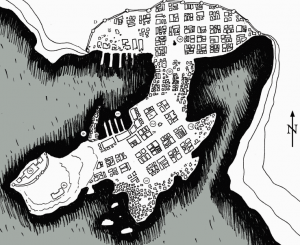 The Market Square (2 on the map) contains one of the few trees in town and it's a towering one, visible from anywhere in the city. Spoiler alert that there's a scroll hidden in one of the branches that grants a roll on the Knowledge table. I'm inundated with knowledge at this point, so I'm not too worried about it.
Shira and Vincent make their way from the Avonmore Arms, through the shantytown towards the Market Square. There are (2d4 =) 6 other adventurers milling about, making their own preparations for a day of blade seeking. Other than Brynhild's Shop, where the innkeeper told them they might find supplies, the fanciful Golden Leopard Inn is located here, amongst the expected array of street vendors — of whom there are more than usual braving the cold this day thanks to the newfound supply of adventurers in the area.

Also of note, beyond the giant tree in the square's center, they spy an enormous stone statue that seems oddly out of place. Moving closer to Brynhild's, they're taken aback as the hulking statue begins to move.
Enter The Wildcard, Karsten-doo. Given that The Wildcard, is… well, a wildcard already, I don't feel the need to randomize anything about him. The module simply states that he'll be affable, but elusive, chatting with the PCs but hiding his motivations and shrugging off questions of any rumors as hearsay. The Cold, he'll imply, are the true threat — not some mythical blade — and lead the PCs to believe he's indifferent to it all.
A giant and brilliant stone-like creature who seeks the Blade much like a Defender, to keep it out of the wrong hands. Working for him adds 1 point of Resist Cold.
STR: 18, INT: 15, WIS: 12, DEX: 11, CON: 17, CHA: 16
HP: 60 / AAC: 17 / AC: 19 – (17 – 2) =  4 (as chain + shield)
Equipment: Warhammer (+14 to hit) 1d10+4 damage. On a successful hit, the target must save vs. Paralysis or be turned into statue.
Knowledge: 

(5) Has traded with the obsidian gnomes before and aims to visit them in their fortress in the obsidian cliffs to gain more knowledge. Believes that giants are real.
(18) Very concerned that whoever clutches the Blade will be corrupted.
Let's give him some UNE mojo:
Mood (Distrustful): (9) Guarded
Demeanor: (no roll) Mysterious
Bearing: (81) Obscurity
Focus: (79) The Character
So, Mr. -Doo is all about obscurity of himself (I take "the character" to mean the NPC we're rolling about, but I suppose it could equally be the character they're speaking with) — which is also fitting with the module description that he will behave secretively.
The Day 2 section of the module also supplies a 4×4 chart for NPCs and their knowledge, should the party ask around. I'll bite once. Let's say Karsten-doo is having a chat with: 1d4 = (1) Fiskari the fisherman, who warns adventurers to stay in the safety of Kith-Avonmore.
Vincent and Shira regain their composure and, more out of curiosity than anything, move close to the giant, stone-like creature. As they approach, the golem-man is speaking with a local fisherman who is telling Karsten-doo about (1d4 = 1) the time they saw a giant striding through the fjord — but it was from afar and long ago. The golem-man nods knowingly, no doubt believing in the frost giant legends of the area.

The pair turn to Vincent and Shira as they come closer, the fisherman introducing himself as Fiskari, and the golem-man, eyeing them warily, calls himself Karsten-doo, self-proclaimed ruler of the City of Stones and Song. He asks them of their business in Kith-Avonmore and neither feels the need to withold they are in search of the Black Blade, as the many other adventurers in town. Karsten-doo assures them it's all a bunch of malarky, and not to concern themselves with false portents of swords of power. Nay, they should rather beware of the Cold, cult of tentacle-faced men whom he reckons are likely behind the odd dreams — likely through some dark sorcery or eldritch magic of sacrifice an seance.

Whatever the case may be, Karsten-doo heeds it no mind. He's merely passing through on his way to trade with the obsidian gnomes in the East.
We also come upon the 3rd opportunity (out of 4) for the Cold to strike  — which would be unfortunate since Vincent and Shira are away from their magic and healing. Should the roll miss again, we'll assume they attack at the 4th and final option (or at least let Mythic take a whack at it).
Do the Cold attack after meeting Karsten-doo?
Chaos: 5
Odds: Likely (1d100 within 75) — I bump this up from 50/50 since this is the 3rd of 4 opportunities.
1d100: 85 = No
[collapse]
Nothing much doing. Given Karsten-doo's demeanor, I figure he's not got much else to say, but lets on to the rough location of the Obsidian Gnomes' fortress.
Vincent and Shira excuse themselves and enter Brynhild's Shop to browse for equipment. They've got most of what they need and are already light in the coin purse, so the depart and meet up back at the Avonmore Arms with Hisham and the recovered Calleagh. We'll remove her exhaustion penalty since she's slept the whole morning and Hisham regains his Sleep spell. Chaos -1.
Scene 3 | Chaos 5
About 5 hours have passed and it's well into the afternoon. The party chats about their next move, which they figure is getting caught up with Zul Hightower since he seemed respectable enough and offered enough gold so that they could've cared less if he wasn't.
As the party emerges from the inn, a hail of meteors begins, generating great tremors, destroying ships in the harbor and various  structures in the city, and sending the previously unflappable townsfolk running for their lives.
The module dictates throwing 3d4 at the town map with a table for what each die represents. I end up dropping meteors on areas 6, 7, and 9 on the map — inadvertently destroying the Cold's base, killing off Drakkar the Berserker (a bit of a side lark in the module, but it doesn't appear to lend much to the story), and some obsidian trader shops. Oops!
As the meteors rain down, so too comes a massive ice giant! He emerges wading through the fjord into the harbor, as quick as he might, dashing ships this way and that, wailing in rage…
And we'll leave it at that until next time, because things are about to get pretty hairy.